ALLEGRO MATTENSPECIAL
mit Julie Smith
Freu Dich auf ein intensives und abwechslungsreiches Ganzkörpertraining an unseren Allegrogeräten und auf der Matte. Das Allegro Training ist sowohl für Anfänger als auch für Fortgeschrittene geeignet. Das Gerät bietet eine Übungsvielfalt, die Dich stets neu motivieren und begeistern wird. Du spürst den Trainingserfolg bereits nach der ersten Stunde!
Jetzt buchen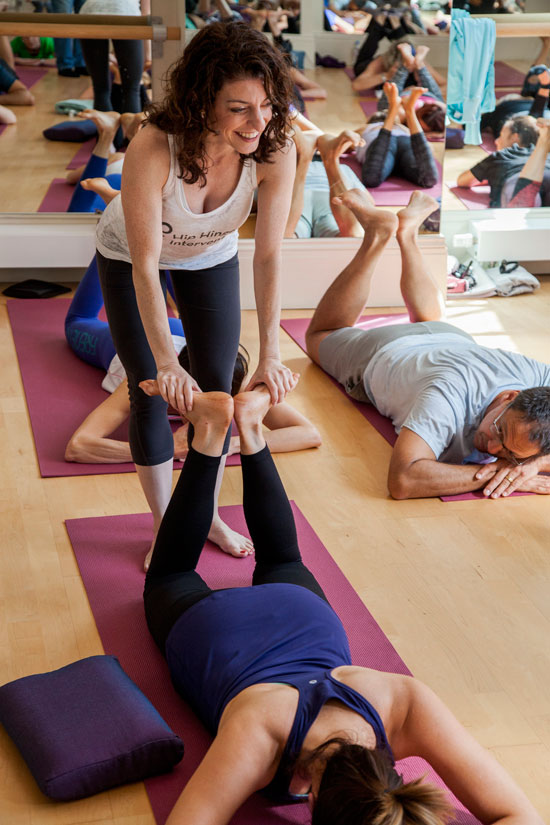 BUFF BONES INSTRUCTOR TRAINING (Ausbildung)
3-tägige Ausbildung zum "Buff Bones Instructor"
with Rebekah Rotstein
Science. Movement. Motivation. Business. Community.
AN ENTIRE SYSTEM FOR BONE AND JOINT HEALTH
More than just a set of exercises, Buff Bones® is a system of movement which builds your confidence in teaching those facing issues of bone and joint health. The bone-strengthening and balance-enhancing workouts are safe, medically-endorsed and adaptable to varying levels and different populations. The workouts uniquely help those with bone and joint concerns, including issues like osteoporosis, arthritis and general back and neck pain. But the workouts can benefit anyone! Those looking to tone up, enhance posture, improve balance, and gain strength in general will also benefit.
THE GUIDANCE YOU'VE BEEN SEEKING
The Instructor Training teaches you the Buff Bones® system and its research-supported design. The system gives you a framework to create a safe and effective movement and exercise class for bone and joint health, with the freedom to creatively structure it as you wish. You'll learn various bone-strengthening and balance-enhancing techniques integrating movement forms like Pilates, strength training, functional movement and therapeutic exercise along with innovative sequences using science and movement principles.
SIMPLE YET NUANCED
The beauty of the Buff Bones® system lies in its simplicity. The foundation exercises are uncomplicated yet highly nuanced. And the training assists you in guiding them in a clear, succinct manner. The key is specificity of movement. You will discover how precision makes all the difference, both in performing the exercises as well as in teaching them. Simple can also be sophisticated!
TAKE YOUR TEACHING TO A NEW LEVEL
The Instructor Training course is far more than just a lesson in the Buff Bones® system. The course strives to elevate your teaching and offer you insights to walk away with a fresh perspective.
Anatomical Knowledge
Lessons in functional anatomy, biotensegrity and biomechanics principles.
Conditions and Injuries Management
A special populations lesson to equip you to work with varying conditions and injuries (i.e. somebody comes in with a hip replacement, or has stenosis and is told that she cannot do back extension yet needs to strengthen her back).
Communication Skills
Advanced teaching and presenting skills to help you grow as an instructor and advocate.
AN ESTABLISHED BRAND
Buff Bones® is a highly sought-after, tried and true brand with a global reputation and trained instructors in more than 30 countries. Established in 2009, it's been taught around the world at conferences, studios, hospitals and spas and recommended by leading healthcare professionals.
Medical endorsements include the former U.S. Surgeon General and Dr. Christiane Northrup
Appearances include the International Osteoporosis Foundation Worldwide Conference, Canyon Ranch and Rancho La Puerta
WOMEN'S HEALTH IS PAVING THE WAY
The Instructor Training course qualifies as one of the select modules toward Carolyne Anthony's Women's Health & Exercise Certification™. Get one step closer to your women's health specialist credential, becoming an in-demand practitioner with new business opportunities.
Der Workshop wird auf Englisch gesprochen und sofort simultan ins Deutsche übersetzt.
Jetzt buchen